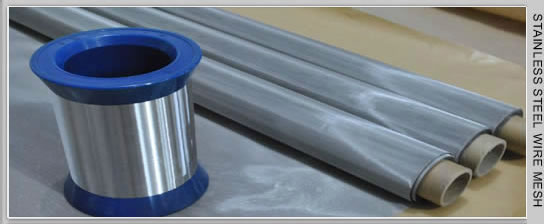 Stainless Steel Wire Mesh, Heavy Crimped, in 304 SS, 3 CM X 3 CM X 3MM, - Mining Screen, Sifting Screen
We supply heavy wire mesh made in thick wire, in big mesh opening, crimped for high tensile and high strength sifting applications.
Heavy type crimped steel mesh made with reinforcing edges or hooks, is suitable for screening and sifting in mine, petroleum, vibrating screening, quarry screening, etc.
Materials: Stainless steel wire, high carbon steel wire, low carbon steel wire.
Heavy crimped screen is commonly made with following weaving structures:
1. Plain Crimped
2. Intermediate Crimped
3. Lock Crimped
4. Single surface crimped: also known as Flat Top Crimped
Hook Strip Crimped Mesh Screen Panels
For shale shakers equipment parts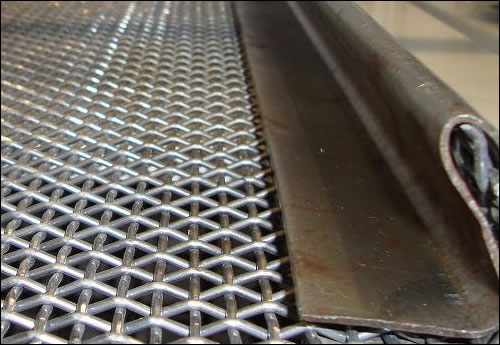 Fit for all kinds of shale shakers.
Structure:
Mining screen panel is constructed with two or three stainless steel layers bonded to a steel support plank.
Mesh: crimped screen.
Accessary rubber plugs: Inserted to the rips or tears of the screen.
Hookstrip flat screens mesh sizes ranging from 12 to 275.
Mesh Layers and Panels:
Mesh screen options: Single, double, triple layer screens available
Different layers with different density. To arrange these layers reasonably and exactly, the screening effect will become more and better. Screen with different mesh counts with suitable opening sizes of the backing plate. Hence, the screen products obtain the largest effective area under the condition of enough strength. The structure offers improved penetration rates and increased shaker capacity.

The bottom layer with low mesh counts has coarse wire and can be tight bonded to the backing to make up one block.

The mesh is divided into many independent small units by grids of the backing plate. This design can prevent rigs of tearing from spreading overmuch. Accessory prepared rubber stoppers can be used to repair damages.

304 Stainless Steel Wire Mesh, Heavy Crimped
Wire, Mesh, Heavy Crimp
Material: 304 stainless steel
Square opening: 3cm x 3cm
Wire diameter: 3mm
Supplied in rolls: 2m x 25m L
Application:
Crimped mesh screen makes ideal equipment accessories of drilling fluid shale shaker, widely used in drilling operations.


We assure you our best cooperation to our customers, by giving following additional services:
- Offer techinal detail of mining screen products
- Back up our customers by giving the best price
- Give our sonnest delivery time
- Enclose the brochure/catalogue/datasheet of the unit ordered
- Technical support after sales
- Custom design meeting specific requirements
- Changing of mesh parts / replacement mesh parts
Stainless Steel Wire Mesh Products
Weaving Types
Technical-tips