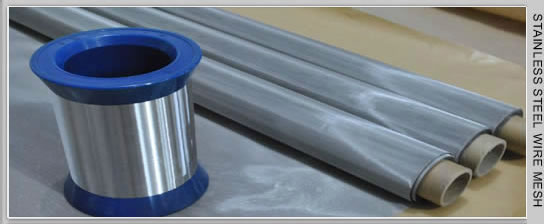 Stainless Steel Crimped Wire Mesh
Crimped Wire Mesh is made by carbon iron wire, galvanized steel wire or stainless steel wire.
Weaving Patterns: Weaving after crimping.
In locked weave, Bi-directional plain weave, single wave weave, two-way wave weaving, rectangular opening weaving.
General Use: Screening in mine, coal factory, construction and other industries. Some galvanized crimped wire mesh and stainless steel crimped wire mesh are for roasting of flour food and meat.
Material: SS304, 316L, 301, 302, 321, 202, Manganese Steel, Galv. Steel, Carbon Steel, Black Iron, Chrome Polished Steel.
Crimped Meshes for Mining Screen
Stainless Steel 304 Crimped Wire Mesh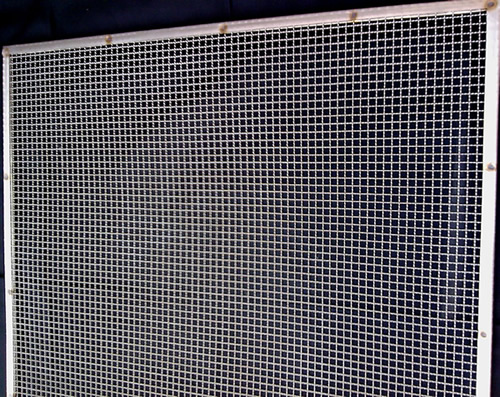 Material: Stainless Steel 304
Processing: Pre-crimped weave
Application: Screening mesh rolls
Mesh: 1inch x 1 inch, 50x50mmx3.5mm
Roll size: 1x30m
Manganese Steel Crimped Mesh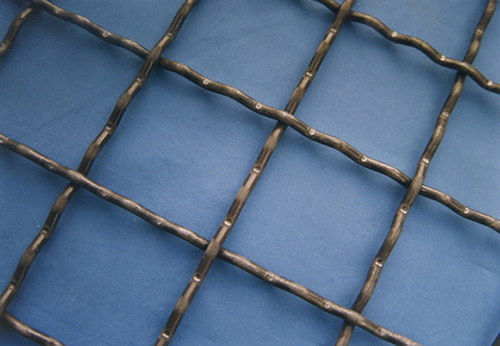 Material: Manganese steel
Processing: Pre-crimp weave
Application: Vibrating mine screen panels
Mesh: 2inch x 2inch
Electro Galvanised Steel Crimped Wire Mesh
Pre-crimped mesh
Material: Galvanised steel
Mesh: 20mm x 20mm x 1mm
Sheets size 280mm x 560mm
Processing: Galvanised after weave
Drawing reference
Black Iron Crimped Wire Mesh
Material: Black iron wire, non galvanized
Processing: Weaving
Application: Mining screen panels


Black wire mesh 24x24mm, woven of iron wire 4mm: square hole screen cloth for coal mine screen.
Other popular sizes:
Mesh: 30x30mm
Wire dia.:4mm
Hole type: Square mesh
Mesh: 40x40mm
Wire dia.:5mm
Hole type: Square mesh
Mesh size range: from 2x2 mm to 100x100 mm
Wire diameter range: from 2 mm to 12 mm
Wire mesh panel width: 2000 mm
Pre-Crimped Monel Screen Mesh
Made of high tensile steel wire for vibrating crimped wire mesh production
Used in Mining & Crusher Plant Screen.
Material: Wire mesh, monel
Mesh per inch: 5 mesh
Wire diameter: 18 BWG
Type: Netting
Hole shape: square
Roll size: 3 feet x 100feet
Quarry Screen Wire Mesh, 304 SS
304 grade stainless woven wire mesh with crimp
Mesh per inch: 10x10
Wire diameter: 0.0236 inch / 0.6 mm
Type: Crimped and woven netting
Hole shape: square
Finish: Bright steel
Roll size: 3 ft wide x 10 ft
Other sizes: Thickness 1.6mm with 11.2 mm aperture
Crimped Wire Mesh, 304 and 316 Grade, in Gauge 19, 20, 22, 30BWG
Crimped wire mesh, wire diameter 0.30mm (30 BWG), square opening 0.50mm (30 Mesh).
Crimped wire mesh, wire diameter 0.70mm (22 BWG), square opening 1.60 mm (11 Mesh).
Crimped wire mesh, wire diameter 0.90mm (20 BWG), square opening 4.20mm (5 Mesh).
Crimped wire mesh, wire diameter 0.10mm (19 BWG), square opening 3.20mm (6 Mesh).
Metal Wire Meshes Crimped for Food Baking and BBQ
Stainless Steel Crimped Mesh Wire for Baking
Crimped mesh wire:
Material: Stainless steel
Mesh 30x15 x 1mm
Mesh 30x15x 1.5mm
Hole: Rectangular
Application: For baking, barbecure, etc.
Detail designs drawing
Crimped Stainless Steel Mesh Grill for Barbecue


Woven crimped grilles mesh
Material: SS 430 grade
Framed size: 300mm
Appliction: Food / BBQ grills
Main market: Australia, USA, North America
Wire Mesh SS304, Heavy Crimped
Stainless steel wire mesh with heavy crimp
Material: 304 stainless steel
Mesh: 30mmx30mmx3mm
Roll size: 2m x 25m L
Common Crimped Mesh Specifications
| | | | | |
| --- | --- | --- | --- | --- |
| Wire Gauge (SWG ) | Wire diameter (mm) | Mesh holes / inch | Aperture (mm) | Weight(kg) |
| 6 | 4.8 | 1 | 20.6 | 11.5 |
| 8 | 4.05 | 2 | 9 | 16.5 |
| 10 | 3.2 | 2 | 10 | 10.5 |
| 12 | 2.6 | 3 | 5.9 | 10.5 |
| 14 | 2.0 | 3 | 6.5 | 6 |
| 16 | 1.6 | 4 | 5 | 5.5 |
| 17 | 1.4 | 5 | 5.1 | 5.0 |
| 18 | 1.2 | 5 | 4 | 3.6 |
| 19 | 1.0 | 6 | 3.2 | 3.0 |
| 21 | 0.8 | 7 | 2.8 | 2.3 |
| 22 | 0.7 | 8 | 2.5 | 2 |
Stainless Steel Wire Mesh Products
Weaving Types
Technical-tips