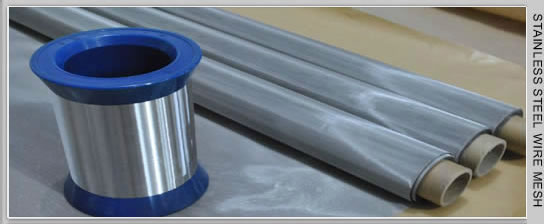 Stainless Steel Bolting Cloth
Stainless Steel Wire Mesh Bolting Cloth offered by Hehua has a thin and strong woven structure allowing for tension screening uses. This is commonly a woven wire cloth with precise apertures and high filtration, achieved by plain weaving technology. The plain weave assures the thin structure of the mesh cloth. However, it takes great expertise to make fine filtration bolting cloth with Plain Weave. Hehua is experienced in manufacturing stainless steel bolting cloth with a flexible precisely woven group of meshes which are used for sieving and sifting powders and flours.  Bolting cloth has an approximately 55% open area. They have fine wires and smooth surfaces to increase particle throughout.
Bolting Cloth Roll Width: 914mm,1220mm,1530mm
Stainless steel bolting cloth used as screen printing mesh requires square opening and high permeation. The screen mesh is plain weave and has flat surface without joint knots, uniform opening, acid-resistant, alkali-resistant, high lasting strength will not be affected under ultra-violet radiation. Stainless steel bolting cloth for printing screen is also known as super-thin wire cloth.
Materials:
Type 316
Stabilized by the addition of 2% molybdenum, T-316 is an "18-8" alloy. Type 316 has better resistance to pitting corrosion than the other chromium-nickel stainless steels where brines, sylph-bearing water or halogen salts, such as chlorides are present. A valuable property of T-316 is high creep strength at elevated temperatures. Other mechanical properties and fabricating characteristics are similar to T-304.
Wire cloth woven of T-316 has extensive use in chemical processing when better corrosion resistance is required than the regular chromium-nickel types. Type 316 L
Type 316 L is very similar to T-316, the difference being the reduced carbon content for better wire cloth weaving and secondary welding characteristics
Uses: Stainless steel wire mesh and stainless steel wire cloth products are widely used in petroleum, chemical industry, environment protection, mine, airspace, paper-making, electronic, metallurgy etc. Special size and specification are available according to customer's requirement.
Technical Specifications:
| | | | |
| --- | --- | --- | --- |
| Mesh/inch | Wire Diameter | Aperture | Open Area |
|   | mm | mm | % |
| 14 | 0.22 |  1.6 |  77 |
| 16 | 0.22 |  1.4 |  75 |
| 18 | 0.22 |  1.18 |  71 |
| 20 | 0.22 |  1.04 |  68 |
| 22 | 0.20 |  950 microns |  66 |
| 24 | 0.20 |  850 |  63 |
| 26 | 0.20 |  780 |  63 |
| 28 | 0.18 |  710 |  61 |
| 30 | 0.16 | 680 |  65 |
| 32 | 0.16 |  630 |  63 |
| 34 | 0.16 |  580 |  61 |
| 36 | 0.16 |  540 |  59 |
| 38 | 0.16 |  500 |  57 |
| 40 | 0.16 |  475 |  56 |
| 42 | 0.14 |  460 |  59 |
| 44 | 0.14 |  440 |  57 |
| 46 | 0.14 |  410 |  56 |
| 48 | 0.14 |  390 |  54 |
| 50 | 0.14 |  375 |  53 |
| 52 | 0.14 |  350 |  51 |
| 58 | 0.112 |  320 |  55 |
| 60 | 0.112 |  310 |  53 |
| 62 | 0.112 |  300 |  52 |
| 66 | 0.10 |  280 |  54 |
| 72 | 0.09 |  260 |  54 |
| 74 | 0.09 |  250 |  53 |
| 76 | 0.09 |  240 |  52 |
| 80 | 0.09 |  220 |  50 |
| 84 | 0.09 |  210 |  50 |
| 88 | 0.09 |  200 |  48 |
| 94 | 0.09 |  180 |  45 |
| 120 | 0.065 |  150 |  47 |
| 135 | 0.06 |  130 |  47 |
| 165 | 0.05 |  105 |  47 |
| 200 | 0.04 |  90 |  46 |
| 220 | 0.04 |  75 |  43 |
Stainless Steel Wire Mesh Products
Weaving Types
Technical-tips