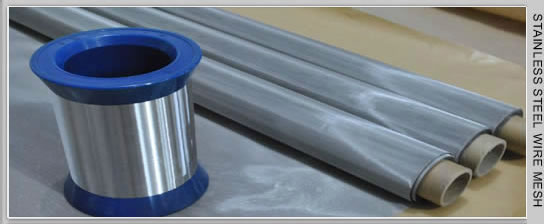 Stainless Steel Wire Cloth, Reverse Dutch
Woven Wire Mesh Reverse Dutch Weave
Woven wire mesh of Reverse Dutch Weave offers superior strength over plain weave and twilled woven wire mesh as filter screen. We supply mainly following Reverse Dutch Weave Wire Mesh products.
Woven Wire Mesh Reverse Plain Dutch Weave
Material S.S. 1.4301 / AISI304
Outside diameter 955
Diameter of warp. 0,27 ÷ 0,28 mm
Diameter of weft: 0,10 ÷ 0,11 mm
Quantity of warp per 10 mm : 18
Quantity of warp per 25,4 mm : 45
Quantity of weft per 10 mm : 66
Quantity of warp per 25,4 mm : 170
Thickness of mesh; 0,56 mm

Edge treatment:
Wire mesh edge smooth and firm, cut by lasers.

Quality standard:
Material Certificates according to EN10204 3.1 are supplied.
Feature and Applications
Reverse Dutch Woven Wire Cloth in stainless steel is the same as Dutch woven wire mesh except the warp and weft wires are reversed. Stainless steel wire mesh is wear-resisting, heat-resisting, acid - resisting and corrosion resisting. This style of woven wire cloth is extensively used in chemical industry, food industry and pharmaceutical industry.
Common Specifications:
Mesh per Inch (25.4mm)
Warp x Weft

Wire Diameter (mm)
Warp x Weft

Density of Warp Number/dm

Fineness of Filtering
(micron)

Weight
(kg/m2)

48 X 10

0.5 X 0.5

189

300

3.63

290 X 76

0.09 X 0.19

1142

40

1.27

400 X 120

0.058 X 0.1

1575

30

0.64

625 X 104

0.04 X 0.15

2461

28

0.84
Stainless Steel Wire Mesh Products
Weaving Types
Technical-tips