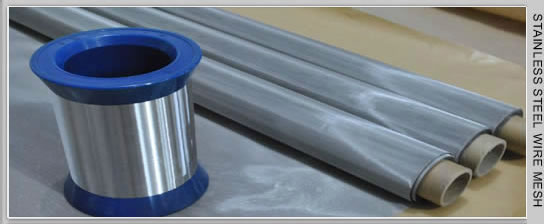 Stainless Steel Wire Mesh Pleated Candle Filters for Molten Polymer Filtration
Pleated Filter Cartridges are long and thin in cylindrical shapes, also called Candle Filters. Pleated woven wire mesh candle filter elements are made nomally with five or three layer of pleated woven wire cloths as filter layer, perforated metal tube as support layer, with gasket and cap welded on both ends for installation on cartridges. The pleated multi-layer screen wire cloth offers extended filtration area and high dirt control capacities. Wire Mesh Pleated Filter Elements mainly serve in filtration of high molecular polymer in the field of medicament, foodstuff, petroleum, chemical industry, electric power, pharmaceutics, machinery, metallurgy, ceramics, also the filtration of the hydraulic oil and the disposal of water. Candle filters with stainless steel woven wire cloth as filter medium, have such advantages of good strength, fastness, easily cleanable, heat-resistance and economic cost.
Why is Stainless Steel Wire Mesh Pleated Candle Filter also known as Polymer Candle Filter?
Candle Filters are typically designed with multi layer pleated porous wire cloth and perforated steel pipe sleeves. This kind of stainless steel mesh filter is ideal for impurities removing used in polymer melt in chemical fiber, textiles and plastic industries. Hence it is also popularly known as Polymer Candle Filter or Polymer Melt Candle Filter.
Structures and Materials of Pleated Wire Mesh Filter Elements
Pleated candle filters have three parts:
SS wire mesh layer;
SS perforated pipe;
Parts.
Material: Stainless steel 304, 304L, 316, 316L
Wire Mesh Pleating Layer
5 layers of ss wiremesh pleating, most popular;
3 layers of ss wire mesh pleating;
2 layers of ss mesh pleating.
Fine woven micron mesh cloth usually works as control layer, while coarse woven mesh usually works as strengthening layers or support layers for filtration.
Coarse woven wire mesh layers are pleated with the filter media layer together to form the pleating.
The filtration rating is controlled by the fine micron wire cloth.
Stainless Steel Mesh Screen, for Candle Filter Elements
Typical Micron ratings (absolute) : 5um, 10 um, 15 um, 18 um, 25 um, 75 um, 100 um, 150 um, 300 um
Perforated Stainless Pipe
Perforated cylinder as support inner core
Perforated stainless steel pipe sleeve to support the crimped wire mesh layer, usually with a round hole perforation, made of ss 314

Perforated pipe, as guard layer:
Out layer: for wire mesh layer protection
Round hole or square hole perforation
This design is optional.
Fittings and Components for Pleated Candle Filters
Thread, flange, rod, cap, etc.
SS Pleated Filter Main Connector Connections:
1. Standard connector(220,222,226).
2. Snap coupling.
3. Thread connection.
4. Flange connection.
5. Rod connection.
6. Special customization.
General Technical Data:
1.Working pressure:30Mpa
2.Working temperature:300 degree celcuis
3.Dirt holding capacity:16.9~41mg/cm2
Design advantages:
Good permeability;
Stainless steel material free from blur ensures a long life span;
Outer perforated stainless steel cylinder can protect the candle filter element from unexpected damage at installation;
Pleating of wire mesh waves increase the filtration area to 5 to 10 times larger than the regular cylinder shaped filter element;
Pleating of wire mesh improves strength in the filtration mesh and support mesh;
Taper design at the end increases flow and avoid low flow area;
Quality stainless steel woven mesh cloth enjoys super filtration and repeated cleaning;
Internal hexagonal design to make the dismantle and loading of the elements easy, also avoid flow decreasing of the joint part;
The pressure resistance of stainless steel supporting inside core can reach 175bar.
What is Absolute Filtration Rating applied for Stainless Steel Woven Wire Cloth Pleated Filter Elements?
Absolute filtration rating is a terminology in contrast with normal filtration rating.
Absolute filtration rating refers to the micron rating of woven wire cloth filter elements which is determined by the known apperture of the Woven Wire Mesh as filter layer. Normal filtration rating refers to micron rating of sintered stainless steel fiber web or powdered metal cylinder filter that works as depth filtration media.
Stainless Steel Wire Mesh Pleated Candle Filters offer the following benefits:
High dirt holding capacity;
Low pressure drop due to high porosity;
Pleated filter element has accurate filtration rating;
Easily cleanable by conventional chemical cleaning and with a long life-span;
Filtration area of pleated wire cloth filter element is increased by pleating;
Pleated filter elements can use ultrasonic, chymistry to clean, and can be repeatedly used;
Stainless steel filter elements have strong corrosion and acid and alkaline resisting property;
Suitable for high temperature work environment;
Filtration rating of pleated wire mesh filter elements generally goes from 5 micron to 60 micron.
Cleaning of Stainless Steel Candle Filters
The cleaning methods applied for pleated mesh screen filters include:
Chemical cleaning;
High temperature calcinations;
Ultrasonic cleaning.
Popular Cartridge Candle Filter Elements
Common sizes:
Cylindrical size 35 series, at length of 102mm, 207mm, 210mm, 424mm, 485mm, 432mm, 798mm
ø44mm(1 3/4") series: at length of 205mm, 424mm, 485mm, 798mm, 1075mm
ø50mm series: at length of 410mm, 525mm, 870mm, 1395mm
ø57mm series: at length of 1025mm, 1472mm
ø60mm series: at length of 500mm, 1000mm, 620mm, 952mm
ø62mm series: at length of 1195mm, 1395mm
ø104mm x 510mmL
Working pressure: 25MPa.
Working temperature: 320°C.
Uses: Filtering of polymer melt and fluid.
304L Stainless Steel Candle Filter Elements for Plastics

Cpp cartridge filter elements, cylinder size 58mm x 515mm, 20 micron filtration, made of quality ss 304L
Filtration control wire mesh layer: 20 micron
Core: Perforated ss pipe
Fittings: Top Stainless steel end pipe with 1 inch pipe threaded and 2 nuts and gaskets in cartridge plate and one washer
Bottom cap with 8mm threaded bolt with 3 nuts for bracing with steel bands and two washer
Designed for high temperature resistance and corrosion resistance plastic extruder filtration system
SS316L Stainless Steel Mesh Cloth Pleated Candle Filter Element

Inner support sleeve: SS316 L perforated tube with round hole perforation
SS wiremesh pleating: 5 layers
Inner two layers: Support mesh, SS 316L Wire Mesh, 150 and 200 Microns
Filter layer: Filter mesh cloth, 16 micron absolute, in SS 316 L
Outer layers: SS 316L Wire Mesh, 150 and 200 microns
Replacement filter element for Fluid Control

Wire Cloth Specifications Applied for Pleated Filter Elements
Pleating or crimping layer of wire mesh populary sizes: Mesh ( Screen size: 30, 60, 100, 200 mesh )

For ss mesh filter with filtration 100um, the backing mesh cloth usually: 30 mesh and 60 mesh
Detail combinations refer to specifications listed below.
Designed Filter Fineness (um)
Wire Mesh Protection Layer (mesh)
Fine Wire Cloth Control Layer (mesh)
Neutral Laye (mesh)
Streng-thening Layer( coarse mesh)
Streng-thening Layer( coarse mesh)
Layer Thickness (mm)

Air Perme-ability

(L / Min / cm2)

Bubbling Pressure
1
200
400*3000
200
12*64
64*12
1.7mm
1.81
360-600
2
100
325*2500
100
12*65
64*13
1.7mm
2.35
300-590
5
100
200*1400
100
12*66
64*14
1.7mm
2.42
260-550
10
100
165*1400
100
12*67
64*15
1.7mm
3
220-500
15
100
165*1200
100
12*68
64*16
1.7mm
3.41
200-480
20
100
165*800
100
12*69
64*17
1.7mm
4.5
170-450
25
100
165*600
100
12*70
64*18
1.7mm
6.12
150-410
30
100
400
100
12*71
64*19
1.7mm
6.86
120-390
40
100
325
100
12*72
64*20
1.7mm
7.1
100-350
50
100
250
100
12*73
64*21
1.7mm
8.41
75
100
200
100
12*74
64*22
1.7mm
8.7
100
100
150
100
12*75
64*23
1.7mm
9.1
150
50+100+50+30+30+100+50
2.0mm
25
200
40+80+40+20+40+80+40
2.0mm
26
Stainless steel mesh cloth pleated filter cartridges are a kind of surface filtration elements, we also supply depth filter elements made with sintered web or sintered mesh, as filter media layer.
Stainless Steel Wire Mesh Products
Weaving Types
Technical-tips