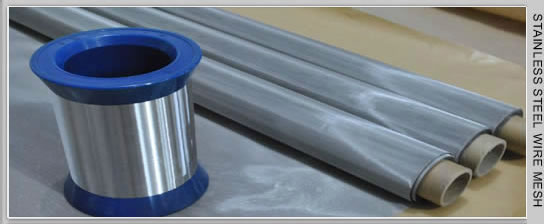 Stainless Steel Hexagonal Chicken Wire Mesh
Stainless Steel Chicken Wire is a kind of Stainless Steel Mesh, twisted woven into hexagonal hole fabric, mainly used for architectural curtains, decorative mesh, pipe wrapping, fire system and other uses. Chicken wire is also known as Hexagonal Wire Netting or Hexagonal Mesh.
We supplies Hex chicken wire in SS and PVC / Vinyl coated.

SS hexagonal chicken wire mesh enjoys excellent corrosion resistance, this ss mesh is suitable for long term uses both indoor and outdoor. Powder / vinyl coated chicken wire is supplied in popular black color. Vinyl coated chicken wire is supplied in rolls of 24 inch x 150 feet, 48 inch x 410 feet, 72 inch width x 150 feet. Popular vinyl coated chicken wires are 13mm mesh and 20mm mesh twisted woven with 18 gauge or 20 gauge galvanized wire.
Material: Stainless steel wire AISI 302, 304, 316
Hole Shape: Hexagon
Popular hole: 1/2'', 3/4'', 1'', 1.5'', 2''.
Weaving Patterns: Straight twist, reverse twist, double twist.
Wire diameter: Ranging from 18 gauge to 24 gauge.
Popular roll size: 100 foot x 1 meter or 72" width, 48 inch x 150 feet, 60 inch x 150 feet, 72 inch x 150 feet, 84 inch x 150 feet, 90 inch x 100 feet.
Finishes: Natural steel, pvc / vinyl coating
Stainless Steel Chicken Wire, 3/8 Inch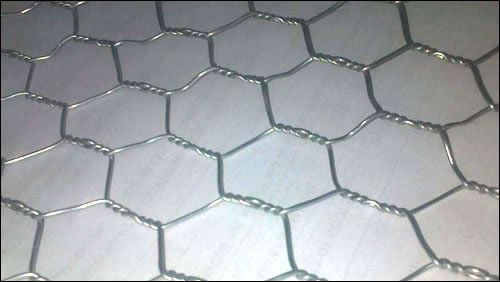 Material: 3/8 inch stainless steel mesh
Rolls: 1 m (width) x 50 m (length)
Type: Twisted, netting
Grade: Stainless steel 304
22 SWG Chicken Wire
Material : SS 304
Diameter of wire : 22 SWG (0.711 mm)
Size of opening : 19 mm
Roll width of wire mesh : 1 m
Hexagonal Stainless Steel Chicken Wire Mesh, 23 Gauge
Material: Hexagonal mesh
Type: Reverse twisted, netting
Aperture: 18mm
Wire diameter: BWG 23
Roll size: 4 ft x 50m
Grade: Stainless steel 304
24 Gauge 304 SS Chicken Wire
Material: Stainless Steel Wire Mesh
Specification: 1" x 1" mesh x wire diameter 022 Dia ( Gauge 24 )
Type: Twist woven, netting
Grade: 304 SS
Roll size: 48" x 100' rolls
18 Gauge Black Vinyl Coated Chicken Wire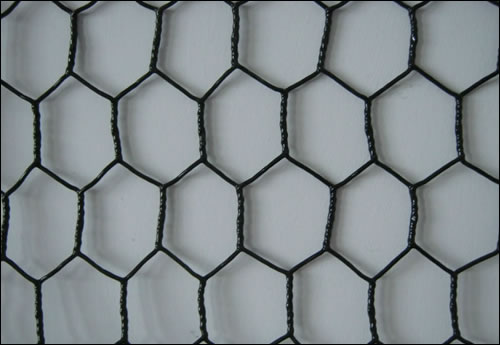 Material: Chicken wire with black powder coating
Type: Twisted woven, netting
Core wire: Stainless or Steel
Finish: Powder coated bonded
Mesh options: 1/2" - 1"
Wire options: 18 gauge, 20 gauge
Specification List of Stainless Steel Chicken Wire Mesh
Size in Inch
Size in Metric Unit
Wire Gauge(BWG)
Technical Note
1/2
1.5cm
22
Max. roll width:2m;
Single or double edge
24
3/4
2cm
20
Max. roll width:2m;
Single, double, or with reinforced edge for customer's choice
22
24
5/8
1.8cm
21
Single or double edge
23
25
1
2.5cm
19
Max. roll width:2m;
Normal and reverse twist
21
23
1.25
3cm
19
Max. roll width:2m;
Normal and reverse twist
21
1.5
4cm
18
Max. roll width:2m
20
22
2
5cm
18
Max. roll width:2m
20
22
Specification List of Chicken Wire with Powder Coating
Specifications
Twistable Wire Diameter
Twistable Width
Mesh (inch)
Size No(mm)
Limit Error
British System No
Metric System Wire Diameter
British system
Metric System
3/8"
10
+0.5
BWG 27-23
0.41-0.64mm
1'-6'
0.1-2m
1/2"
13
-1.5
BWG 27-22
0.41-0.71mm
1'-6'
0.1-2m
5/8"
16
+1.0/-2.0
BWG 27-22
0.41-0.71mm
1'-6'
0.1-2m
3/4"
19
+1.0/-2.5
BWG 26-20
0.46-0.89mm
1'-6'
0.1-2m
1"
25
+1.5
BWG 25-29
0.51-1.07mm
1'-6'
0.1-2m
1.25"
31
-3.0
BWG 24-18
0.56-1.24mm
1'-6'
0.2-2m
1.5"
40
+2.0/-4.0
BWG 23-16
0.64-1.65mm
1'-6'
0.2-2m
2"
51
+2.0/-4.0
BWG 22-14
0.71-2.11mm
1'-6'
0.2-2m
3"
76
+2.0/-4.0
BWG 21-14
0.81-2.11mm
1'-6'
0.3-2m
4"
100
+2.0/-4.0
BWG 20-12
0.89-2.8mm
1'-6'
0.5-2m
Stainless Steel Wire Mesh Products
Weaving Types
Technical-tips