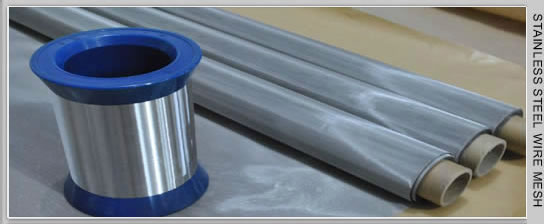 Stainless Steel Perforated Metal Mesh
Perforated stainless steel mesh / sheet is a kind of metal mesh produced by CNC punching machine.
Material: SS201, SS304, SS316, SS316L.
Hole type: round hole, long round hole, square hole, triangular hole, fish scale hole, bridge hole, diamond hole, slot hole, pentagonal hole, hexagonal hole, octagon hole, cross hole, plum hole, decorative holes.
Common Sizes:
Coil sheet thickness 0.2mm - 0.8mm, length 1m-20m, aperture 2mm - 20mm;
The thickness of the plate for perforation is 0.3mm - 25mm
Sheet size: 1*2m, 1.22*2.44m, 1.25*2.5m (special size can be customized)
Features: Light weight, good stability, beautiful appearance, good air, wind and light permeation, easy for fabrication and wide applications.
Uses: Used in food machinery, drying screen, decorative ceiling, instrument case covering, filter and sound control devices and equipment, also used for construction of platforms and other projects.
We supply perforated round and square metal plates (in stainless steel), also cross design and various slotted patterns.
Perforated Round and Square Metal Sheets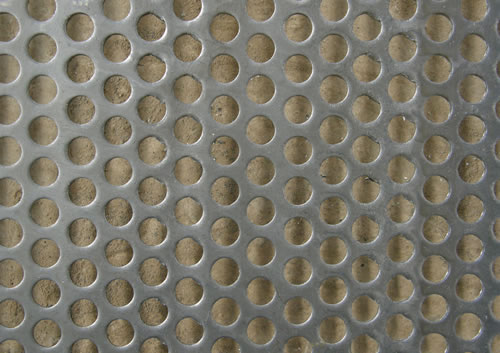 Perforated mesh with the following specifications:
Thickness: 0.5 mm
Hole shape: Square, round
Hole size: (4x4 mm) for square hole, and 4 mm diameter for round hole
Open area: 70-80%
Material: Stainless steel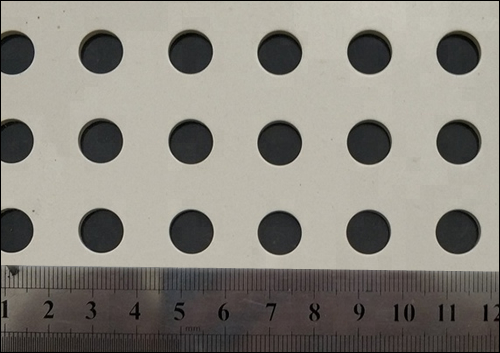 SS perforated mesh, grade sus304
Size: SS Perforated, 2 mm hole, 1mm hole and more sizes.

Round hole sheet /Stainless Steel perforated panels
Panels in 304 2b stainless Steel 0.7mm Thick
Hole diameter 2mm, staggered pitch 2.5mm
Panel size 535 x 185 with 23mm plain border all way around
Size 606 x 256 with 23mm plain border all way around
Perforated Stainless Steel Sheet for Filters, Sieves and Screens
Perforated SS Disc Screen
Stainless Steel Perforated Discs
Stainless steel discs 54mm in diameter
Disc thickness 1-2mm.
Perforated holes 1-2mm in diameter
SS316 Stainless Steel Filter Basket
Technical details, drawing reference: Perforated filter basket
Filter Strainer
Size: 700 diameter x 2174 mm
Micron : 2000 micron
Material : SS316
Perforated Sheet Thickness: 3 mm
Hole size: 2 mm
Pitch: 4mm
Application: Sea Water Filtration
Deliver CIF HAMAD PORT, QATAR
Pack Screen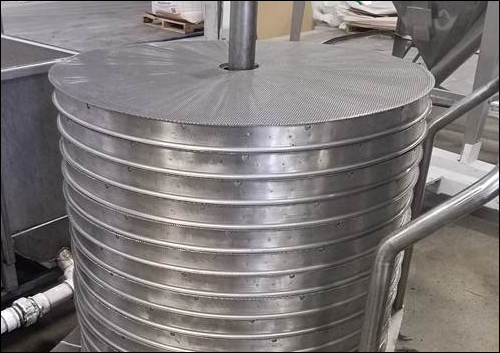 Perforated stainless steel
All measurements are in inches
Diameter = 34 7/8"
Center hole = 3 ¾"
Hole size = 1/8"
Holes per inch = 27
Screen thickness =.045

No burrs at all on the edges of the center hole and that hole has to be exactly 3 3/4" right in the middle of the screen.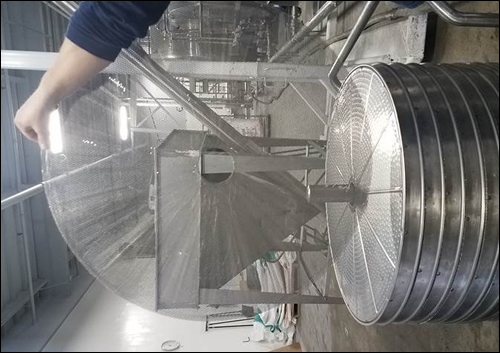 Perforated Tube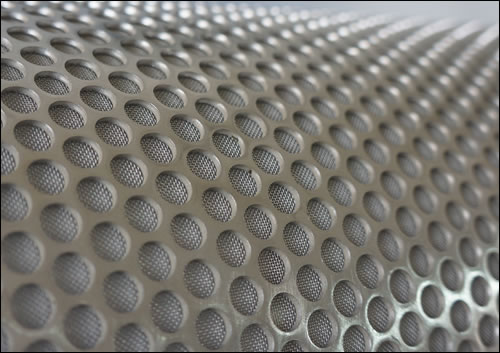 The filter screen is constructed of 4 inch, 11 gauge perforated pipe
Perforated tube / pipe has 3/8 inch round hole
Designed with perforated end caps
The screen and parts are constructed of AISI304 or 304L stainless steel
Standard 4inch ANSI flanges
Drawing reference in PDF
Perforated Stainless Steel Sheet for Powder Drying
Perforated sheet with the following specification:
Sheet Materials: Stainless Steel
Sheet thickness:1 mm
Sheet size: 1m x 1.3m / or 1m x 2.6m / or 1m x 4m.
Hole diameter: Ø 1mm.
Distance between holes are 4.5mm, 5.0mm or 5.5mm
Used inside drying machine in melamine powder manufacture plants
Perforated Stainless Steel Screen
Perforated stainless steel filter screen to replace emitter on patio heaters
Stainless Steel Mesh / Perforated SS Sheet for Food Grade Applications
We supply screen mesh or flat perforated ss sheet Suitable to work at temps to 450degF:

Stainless Steel Screen Mesh, ¼" hole size SS screen mesh, cut to round flat shape with 15.75" diameter. Wire gauge to be between .032" - .060"
Welded wire, not woven, for easier cleaning.
Thicker gauge SS wire welded around perimeter of mesh for edge support.
Flat SS sheet perforated with holes not larger than ¼", same dimensions, without any additional perimeter support
Perforated stainless steel mesh, shipping to Australia

Material: SS304
Perforated metal mesh
thickness:0.8mm
hole size: 2.5mm
pitch size:4mm
sheet size: 2400mmx1200mm
Stainless Steel Perforated Plates
Perforated Stainless Steel, 304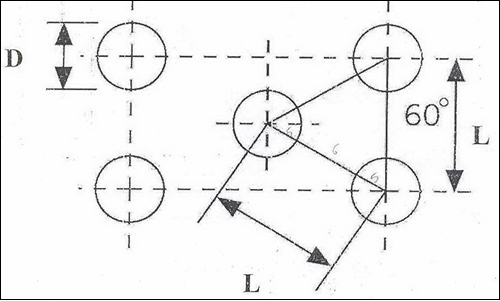 Perforated Stainless Steel
Material : ST. 304
Dimensions : 1 m x 2 m
Thick : 2 mm
Hole Size : 10 mm
Pitch: 16 mm
Perforation according to above drawing
SS304L Perforated Plates

SS304L Perforated plates ( in Spain, mamparos perforados), 3mm (10X15)area efectiva 40%, shipping to Chile
Plates material quality: A304L, thickness 3mm (10x15), plates sizes 1.500 x 3000 mm, perforation according to above drawing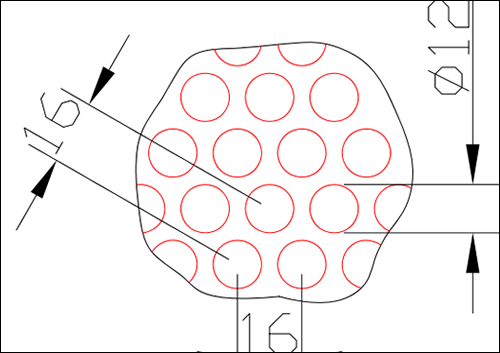 Stainless Steel Perforated plates, area efectiva 51%, shipping to Brazil
Plates material quality A304L, thickness 6mm ( 12x16), plates sizes 1.500 x 3000 mm, perforation according to above drawing
Slotted Sheet Metal
321 Grade SS Slotted Sheet
Slotted plate thickness 1.2 mm
Material: in stainless steel 321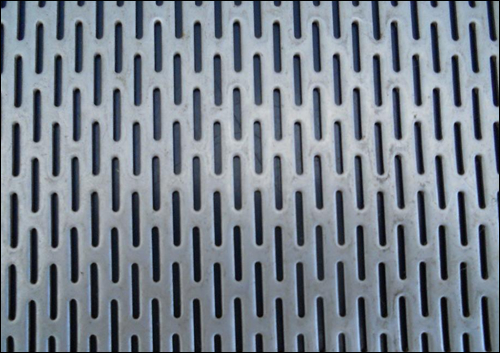 Slotted Screen Patterns Reference in PDF
Decorative Metal Sheets
Decorative Stainless Steel Perforated Sheets, Shipping to Lybia
Brushed stainless steel perforated sheets, with cross design
For ornamental furniture manufacturing

Perforation according to above photo.
Sheet of Stainless Steel Perforated Mesh, Shipping to USA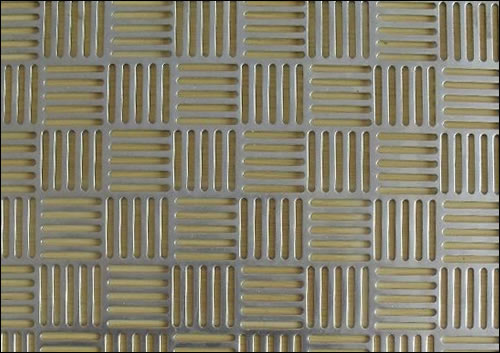 Perforated Mesh with decorative slotted pattern: each square of five slots
Size: 2"x2"
Steel mesh sheet, for decoration of hanging ceiling light
Sheet size: 82" x 44"
Perforated Steel Mesh Panel, Shipping to USA
For architecture firm, used for wall covering and facade of buildings projects. 50% open air rate perforated panels
Popular Perforated SS Specifications
material
thickness
(mm)
Aperture (mm)
hole spacing(mm)
wide
(m)
length
(m)
punching rate
(%)
weight
(kg/m2)
stainless metal plate
0.5
1
1
1
2
19.6
3.14
0.8
1.5
1.5
1
2
19.6
5
1
2
2
1
2
19.6
6.28
2
5
16
1
2
19.6
6.28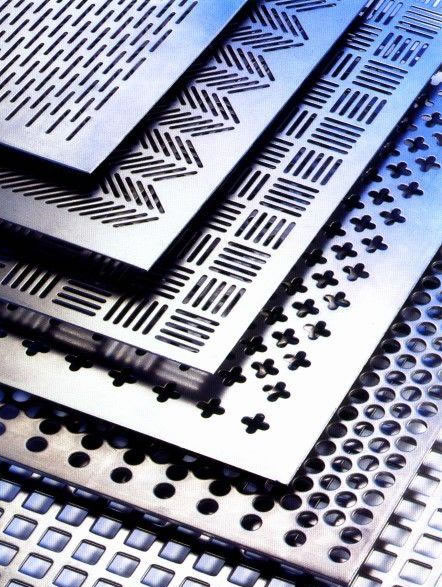 hole shape of stainless steel perforated metal mesh
Micro Hole SS Mesh Perforated
Micron hole mesh can be produced in several ways: laser perforated plates, etched screen plates, punched holes or electroformed.
Material for micron mesh sheet can be stainless steel plate, aluminum plate, hot and cold steel plate and copper plate.
Thickness: 2mm and below sheets; especially suitable for sheets with thickness less than 0.5mm.
Specifications: thickness and aperture are generally 0.5mm-1.0mm; sheet size: 1m*2m or 1.22m*2.44m (special size can be customized)
Used in integrated circuit printing, fluorescent screen electronic grid, filtration, micro-electrode components, substrates in the electronics industry, etc. Also used to manufacture signs, trademarks and fine crafts.
Stainless Steel Wire Mesh Products
Weaving Types
Technical-tips