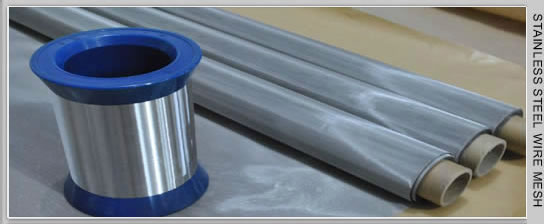 Stainless Steel Wire Cloth, Plain Dutch
Plain Dutch Woven Wire Mesh is similar to plain weave wire mesh, while the warp wires are thicker and lie closer to each other. This type of woven stainless steel wire mesh is mainly used as industrial filter cloth and apparatus of separation.
He Hua is an expert weaver of stainless steel wire mesh and stainless steel wire cloth. We offer various grades of woven wire mesh and woven wire cloth in stainless steel, brass, copper and other metal materials. In this page, we mainly introduce Dutch Woven Filter Cloth in Stainless Steel, Plain Dutch Weave (Professional Standard).
Filter Cloth No.

Quantity of
Wire /Inch

Wire Diameter
(mm)

Weaving Method

Mesh Weight
(kg/m2)

Warp

Weft

Warp

Weft

p28

7.1

40

0.710

0.630

Plain

5.26

p33

8.4

75

0.500

0.355

2.99

p40

10.2

75

3.11

p45

11.4

75

3.19

p50

12.7

75

0.450

3.11

p55

14

75

3.18

p60

15.2

100

0.400

0.280

2.57

p74

18.8

110

0.355

0.250

2.34

p80

20.3

110

2.39

p90

22.9

120

0.315

0.224

2.14

p100

25.4

140

0.280

0.200

1.90

p110

27.9

150

0.180

1.82

p120

30.5

150

0.250

1.74

p140

35.6

200

0.244

0.140

1.43

p160

40.6

220

0.180

0.125

1.21

p180

45.7

250

0.160

0.112

1.08

p200

50.8

280

0.140

0.100

0.95

p220

55.9

280

0.97

p240

61

300

0.090

0.93

p260

66

300

0.125

0.89

p280

71.7

350

0.112

0.080

0.78
Stainless Steel Wire Mesh Products
Weaving Types
Technical-tips