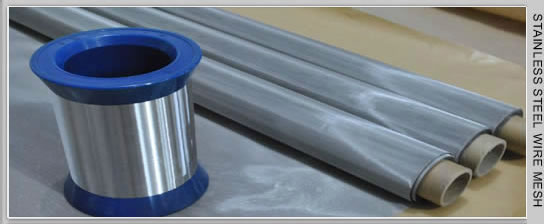 Stainless Steel Chain Link Fence
We supply and export Stainless Steel Chain Link Fence for Tennis Courts and various Perimeter Fencing ( borders, gardens, pool, platform, etc. ) uses. Chain link mesh fabrics can be used with barbed wire for High Security Fencing System.
Materials for SS Chain Link Mesh:
T304 SS type and 316 SS type.
304 SS Chain Link Fabric for Tennis Court - Sports Fencing
Specifications:
Wire: 9 gauge
Standard chain link fence fabric 10 ft high x  360ft long
Mesh: Standard 2.25" square opening
Edge: Bent (not twisted) edges
Other requirement: The sports fence needs withstand 125 mph wind force
Applications: For tennis court fencing
Chain-Link Mesh Perimeter Fences
Chain link mesh fence with posts, tension wire, knuckle edge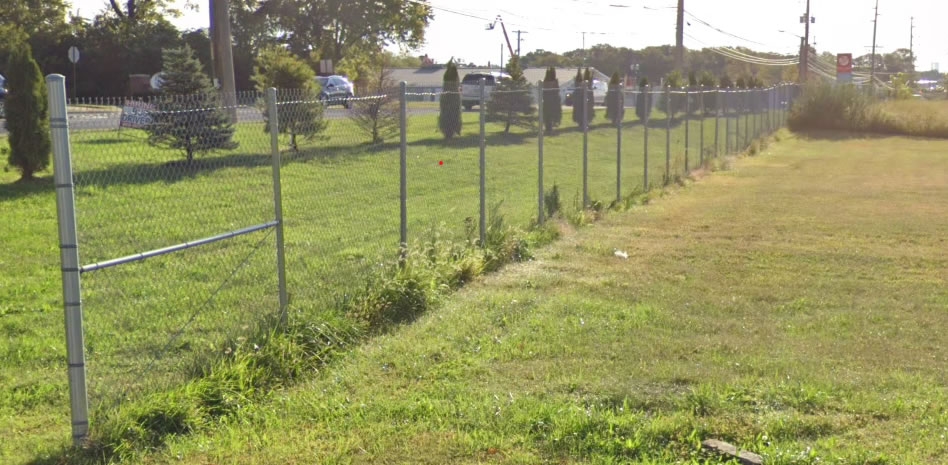 6 inch SS chain link mesh fabric with automatic mechanical control gate design.
Application: For building perimeter safety fencing
304 Stainless Steel Chain Link Fence for Military Project
Parts and Specifications:
Woven Wire Mesh Fence Fabric
Material: Type 304 stainless steel wire
Wire diameter: 14 gauge ( 0.08inch)
Opening: 0.25 inch clear opening
Fence toppings: Stainless Steel Razor barbed wire
Designs: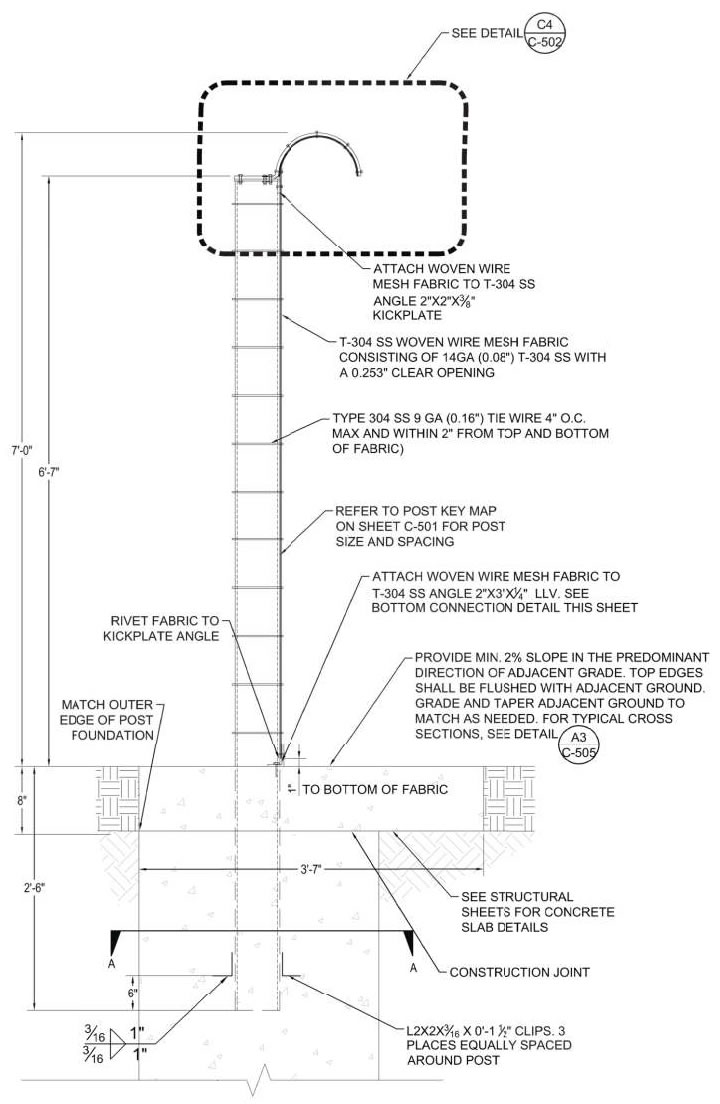 Fence fabric and fittings:
T-304 SS 3/8 inch Thick Bracket welded to top of post 4 inch mininum width
T-304 SS Rivets
Type 304 SS 1/8 inch thick and 10 inch wide half pipe rolled hood, 11 gage
SS 3/16 inch rivets
SS top rails
T304 SS Woven wire mesh fabric
Type 304 SS 9 gauge tie wire
Connection of Chain Link Mesh to Posts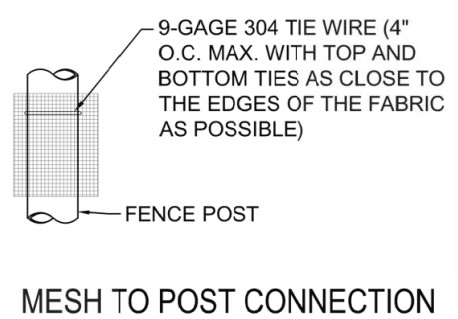 Angle Posts, Brackets and Line Posts and Brackets:

Stainless Steel Chain Link Mesh Fence SS316 50x50x5mm for Deck Netting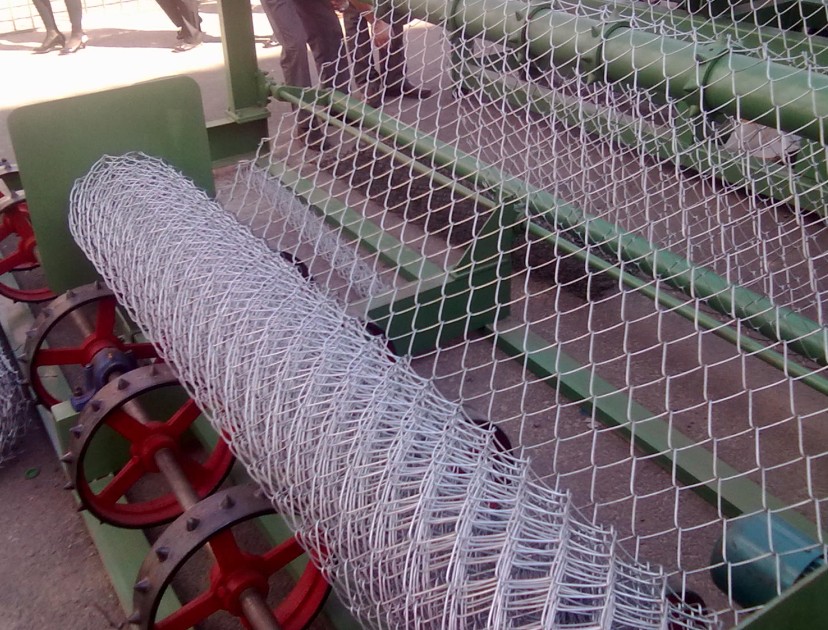 Fence size: 2m width
Mesh size: 50mm x 50mm
Wire diameter: 5mm
Material : SS316
Application: Platform Deck Netting Barrier for Fire Extinguisher
Galvanized Steel Chain Link Fence Fusion Vinyl Coated for Swimming Pool and Gardens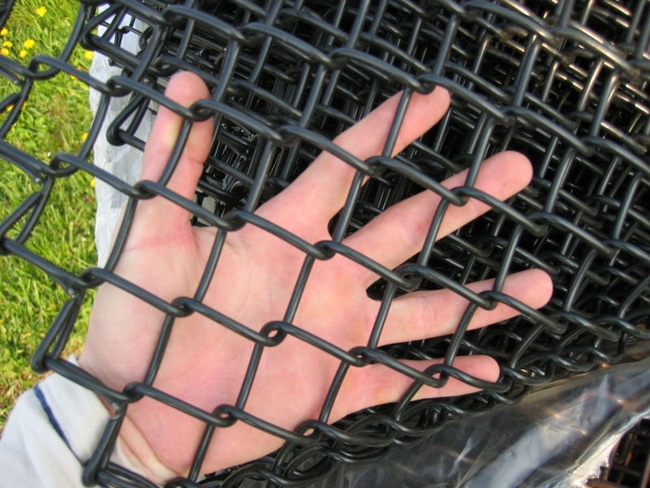 Netting material: Mild steel
Finish: Galvanized and powder coated
SS Fence - Chain Link - Woven Diamond Mesh 60 X 10MM for High Way Fencing
Material: Stainless Steel Grade 316 For Manufacturing Of S.S. Fence
Fence Parts Description
Erw Pipe, Dia 8"Sch 80 (Wt 12.7mm) 12 Mtr Long (Or In 6 Mtr Long = 520 Pcs)
Spherical Top Cap Dia 8" Sch 80 (Weld Type)
Erw Pipe, Dia 14" Sch 80 (Wt - 19.05mm), 12 Mtr Long (Or In 6 Mtr Long = 84 Pcs)
Spherical Top Cap Dia 14" Sch 80 (Weld Type)
Erw Pipe, Dia 3" Sch 40 (Wt - 5.49mm), 6 Mtr Long
Elbow 90 Degree, Dia 3" Sch 40 (Weld Type)
Flat Bar 60 X 8mm, 6 Mtr Long
Flat Bar 120 X 12mm, 6 Mtr Long
Solid Round Bar Dia 8mm, 6 Mtr Long
Wire Rope Dia 8mm
Wire Crimping Clips Dia 8mm
Chain Link - 60 X 10mm
5 Feet High 2 inch Stainless Steel Chain Link Fabric Fence - for Residential Fencing
Height: 1.6m (5ft)
Terminal post to accommodate change in direction or angle of grade
2.43m (8ft) spacing of line post, top rail and bottom tension wire
Gate: 90cm (3ft) gate.
Parts and Specifications:
Fabric: Stainless Steel 2" mesh, or Optional SS316 (1"x1") chain link mesh
Top Rail with splice cupplers
Terminal Post with cap length 2.43m (8ft)
Line Post with loop cap length 2.43m (8ft)
Brace Rail length 2.43m (8ft)
Truss Rod 3/8"
Truss Rod Adjusting unit
Brace Rail Bands
Tension Bar
Tension Bands
Tension Wire 7gauge
SS 316 Chain Link Fence Fabric, Gate and 3 Strands of Barbed Wire - High Security Fencing System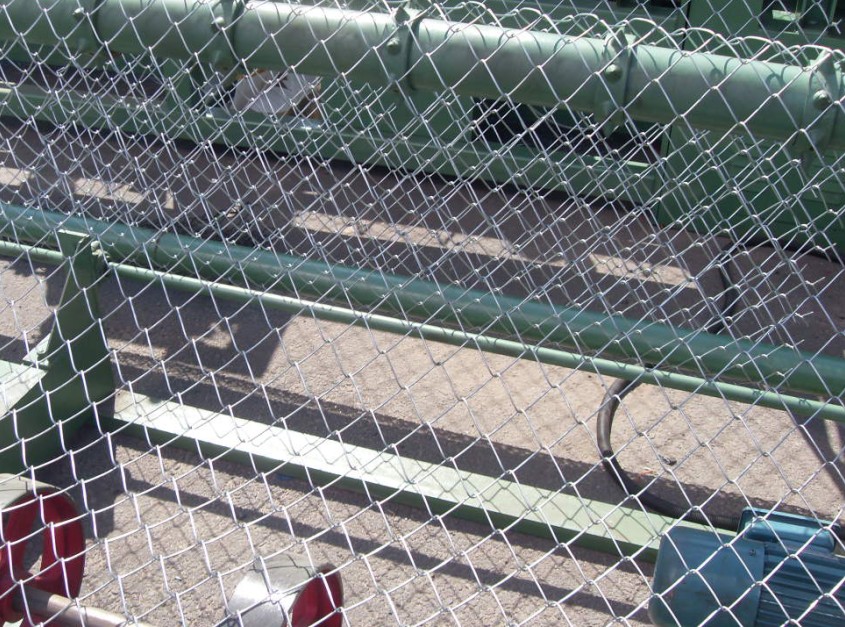 Fence Height: 2.4m including posts (every 3M), brackets for barbed wire
Barbed wire: 3 strands
Chain link fence fabric 5cm x 5cm
With chain link fabric gate
Barbed Wire Mounting:
Galvanized steel bracket for support of barbed wire, bracket connected to posts
Parts and Specifications:
Barbed wire extension arm
Stretcher bar 25x5mm flat
Galvanized steel post
Tension Wire
Steel Posts
Corner and pull post
Tubular - round post 73mm
Tubular - square post 63.5mm
C Section: 87.5mmx87.5mm
Line post
Tubular - round post 60mm
H section: 57.1mm x 43.2mm
C section: same as above
Top and Bottom and Brace Rails:
Tubular - round rails: 42mm
Tubular - square rails: 38.1mm
H Section: 41.3mm x 38.1mm
C section: same as above
Gate Leaf Width:
1.8 m max. with gate posts 72mm OD
1.8m to 3.6m with gate posts 100mm OD
3.6m to 5.4m with gate posts 166mm OD
5.4m up, with gate posts 216mm
Stainless Steel Wire Mesh Products
Weaving Types
Technical-tips